****
GET A GAME PLAN & ALWAYS BE READY *****
GOTO LINKS ON RIGHT SIDE OF PAGE & REGISTER
CELL PHONES FOR CODE RED ALERT SYSTEM



---
HIGH WATER ADVISORY:

St. Mary Parish OHSEP along with other agencies are currently monitoring
water levels along the Atchafalaya River.

Camp and property owners in flood prone areas need to take action now to
protect and secure property. As the water rises and the current strengthens,
it makes traveling in high water areas more and more dangerous. Don't risk
your life or potentially the lives of others by waiting until the last minute. Also,
remember that anything floating needs to be tied off properly."

Travel is prohibited on all levee roads, crowns, slopes, and bases. Those
trespassing by riding or crossing on levees in areas not designated for public
use are subject to criminal penalties. Any vehicles parked in those areas will
be towed. The St. Mary Levee District will work to protect the integrity of the
levee system.

Because of the higher level of the Atchafalaya River and surrounding waterways,
there is the potential for property damage to occur from wakes caused by boats.
Boaters in areas of high water should slow down. Be mindful of your wake and
the potential damage you could cause.



---
A Message from the
St. Mary Parish Office
of Homeland Security and
Emergency Preparedness:
Although St Mary Parish has been declared a Major
Disaster area, we have been informed that after
the State and Federal officials completed individual
assessments of the damaged properties, St. Mary
Parish fell short of the criteria used for Federal
Individual Assistance.
The U.S. Small Business Administration (S.B.A)
will be offering low interest disaster loans to those
impacted by Hurricane Barry.


Disaster #:
LA-00093
Effective Date:
7/10/2019
Incident Period:
7/10/2019 through 7/15/2019
Incident:
Hurricane Barry
States Affected:
Louisiana
Counties Eligible:
Primary Counties:
Louisiana
Allen, Avoyelles, Saint Mary
Contiguous Counties:
Louisiana
Assumption, Beauregard, Catahoula, Concordia, Evangeline,
Iberia, Jefferson Davis, La Salle, Pointe Coupee, Rapides,
Saint Landry, Saint Martin, Terrebonne, Vernon, West Feliciana
APPLY AT: www.sba.gov
Call: 1-800-659-2955


---
---
---
PUBLIC NOTICE:
St. Mary Parish Government has debris removal crews working along
the roads and streets in the unincorporated areas of the Parish. It is
anticipated that they will make at least two passes along the roads
and streets during the next few weeks in order get all of the debris
from Hurricane Barry removed. Please place the hurricane debris
along the shoulder of the road/street. St. Mary Parish thanks you
for your patience and cooperation in this endeavor. Citizens from
across the parish may also bring their own debris to the West End
Pick-Up Station in Franklin and to the Harold J. 'Baba' Landry
Landfill in Berwick. Regular operating hours are 7:00 a.m. to
4:45 p.m., Monday thru Friday and 7:00 a.m. to 2:45 p.m. on
Saturday and Sunday; however, for the next couple of weeks
these facilities will be open extended hours daily until 7:00 p.m.
. You may call the Pick-Up station to confirm its hours at
337-828-4100, ext. 114 and the Landfill at 985-385-4531.
If you live within the corporate limits of Morgan City, Berwick,
Patterson, Franklin or Baldwin, please contact the respective
city hall for information concerning debris removal within
the municipalities.

---

NOTIFICATION FROM AMERICAN REDCROSS 7/19/19:

The Disaster Assessment teams are in your parish today.
Here is some information that may be helpful:
• As our teams survey the affected areas, this data is being
transmitted to our DA team at HQ, located in Baton Rouge.
We should have information for you regarding numbers/percentage
complete/etc. beginning tomorrow.
• This real time data is used to determine the number of "strike teams"
assigned to St. Mary Parish. These "strike teams" are multi-disciplinary
teams that include members skilled in Casework, Health Services/Mental
Health Services, and Supply Distribution.
• Strike Teams focus will first focus on the destroyed homes and
those with Major Damage. These teams will be able to distribute
emergency supplies, provide critical financial assistance as indicated
and connect families with local resources.
• Should persons call your office in need of help due to the storm,
please ask them to call 1-800-REDCROSS (1-800-733-2767)
---
---

PLEASE NOTE ST MARY IS CONSIDERED SOUTH CENTRAL..
WHEN SEVERE WEATHER IS EXPECTED :

PLEASE TIE DOWN LOOSE OBJECTS, SUCH AS: GARBAGE
CANS, PATIO FURNITURE, PLANTS, ETC. MINOR
FLOODING MAY OCCUR ALONG THE COAST CYPREMORT
POINT AND BURNS POINT AREA WITH STRONG SOUTH
WINDS AND HIGH TIDE...

DURING HEAVY RAINS, PLEASE BE MINDFUL
IF A STREET IS FLOO
DED
DO NOT GO THROUGH BARRICADES
TURN AROUND DON'T DROWN
ALSO WAKES MAY PUSH WATER INTO HOMES

---
---
---
---
---
---



Severe Storms Awareness Week: Tornadoes
Watch vs Warning- Do you know the difference?
A tornado WATCH means BE PREPARED.
A tornado WARNING means TAKE ACTION.
If there is a tornado watch pay extra close
attention to the weather and be ready to act,
because tornadoes are possible. If there is a
tornado warning, find shelter immediately,
and move to an interior room on the lowest
floor of a sturdy building, because a tornado
is occurring or will shortly. Avoid windows
and cover your head to protect yourself from
flying debris.Take Action! Acting early
helps to save lives!
http://www.nws.noaa.gov/om/tornado/ww.shtml
#SpringSafety


---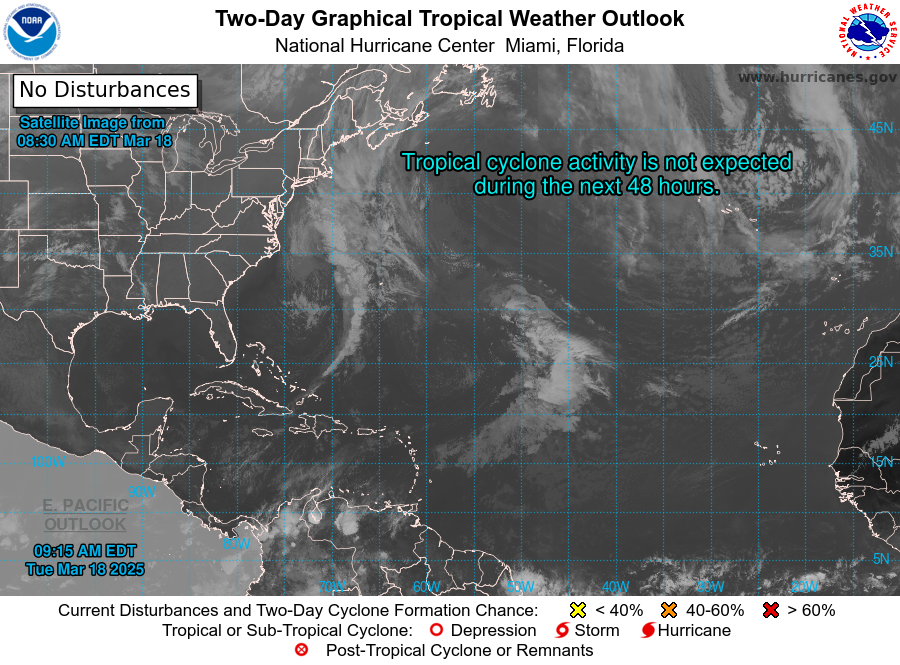 ---
---
---



ST MARY PARISH HURRICANE GUIDES ARE LOCATED IN THE LOBBY OF THE ST MARY PARISH


COURTHOUSE BUILDING LOBBY OR ROOM 105 OR 107, 1ST FLOOR.

YOU MAY ALSO DOWNLOAD LA GOHSEP HURRICANE GUIDE AT THE FOLLOWING LINK:

http://gohsep.la.gov/evacinfo/Emergency_Guide_v46b_7-1_4p.pdf



FOR

ROAD CLOSURES

PLEASE GOTO THE LINK BELOW:

http://lb.511la.org/lalb/


---

On October 10, 2013: Flood stages at four forecast points along the Atchafalaya River will be changed to better reflect flood impacts along the reaches of the river served by these forecast points.

The National Weather Service will change the river flood criteria at four locations along the Atchafalaya River to better reflect the flood impacts at the following locations: Butte La Rose, Melville, Krotz Springs, and Morgan City.

Morgan City


| | New Criteria | Current Criteria |
| --- | --- | --- |
| Action Stage | 4 Feet | 4 Feet |
| Flood Stage | 6 Feet | 4 Feet |
| Moderate Flood Stage | 7 Feet | 7 Feet |
| Major Flood Stage | 12 Feet | 12 Feet |

These changes in the flood criteria will allow emergency managers in Avoyelles, St. Mary,St. Martin, St. Landry, and Iberia parishes to better serve the communities that would
be impacted by flooding. These flood criteria reflect input from the leaders of these parishes,
along with first responders, and citizens.

Important: These changes will not affect flood insurance maps or flood insurance rates for these locations. This will only affect the watch and warning criteria at this locations .


---


Have you developed your disaster plan? Start today. You never know when the unexpected will happen. Be prepared; develop your emergency kit!

Ready.gov - FEMA Federal Emergency Management Agency
Louisiana Governor's Office of Homeland Security and Emergency Preparedness


---

Go to this link for St Mary Parish School updates:
http://www.stmaryk12.net
---
The
ALERT FM
app is now available for iPhone and Android devices.
Below are the links that go directly to the ALERT FM app.
iOS:
http://imap.tv/2k
Android:
goo.gl/qwQyU
---
River Stages
National Weather Service


CURRENT RADAR FROM THE US NATIONAL WEATHER SERVICE LAKE CHARLES

---
WEEKLY WEATHER UPDATE FROM
US NWS LAKE CHARLES
2/13/2020
:


Dry weather is expected Friday and Saturday, but a light freeze
could be seen in parts of central Louisiana each morning.

Rain and a few thunderstorms are in the forecast Sunday through
next week. Rain totals will be 1-2 inches.

Temperatures will be above normal next week.

Roger

Roger Erickson
Warning Coordination Meteorologist
National Weather Service
Lake Charles, LA


---
According to The American Red Cross, the internet - including online news sites and social media platforms - is the third most popular way for Americans to gather emergency information and let their loved ones know they are safe.
Through the use of everyday technology, individuals, families, responders and organizations can successfully prepare for, adapt to and recover from disruptions brought on by emergencies and/or disasters. With effective planning, it is possible to take advantage of technology before, during and after a crisis to communicate with loved ones and manage your financial affairs.
FEMA Text Messages
Use your cell phone's text messaging capability to receive text message updates from FEMA (standard message and data rates apply).
Here are basic commands to get started:
To signup to receive monthly preparedness tips: text PREPARE to 43362 (4FEMA)
To unsubscribe (at any time): text STOP to 43362 (4FEMA)
PLEASE CLICK ON THE LINK BELOW:
St . Mary Parish's
Emergency Notification
System


https://public.coderedweb.com/CNE/EE6068DD11C4
Link to register your cell phones and email ONLY!!


PLEASE NOTE:

HOME AND OFFICE LANDLINE PHONES ARE ALREADY REGISTERED FOR CODE RED ALERT SYSTEM!!!


---