****HURRICANE SEASON ----- GET A GAME PLAN -----
GOTO LINKS ON RIGHT SIDE OF PAGE
& REGISTER CELL PHONES FOR
FIRST CALL ALERT SYSTEM ***


---
Please be advised, if you call St Mary Parish 911 or any other emergency
service agency such as Police, Fire or Sheriff dispatchers in be prepared
to answer a few more questions about your travel or illness symptoms.
This comes after a recommendation from DHH and GOHSEP,
in the wake of the heightened concern about the Ebola virus. There are
no reported cases in Louisiana; however, emergency personnel who come
in contact with the public need to stay vigilant.
This is not to alarm anyone. We're just asking the public to be more patient
if the 911 operators ask you a few more questions than normal.
Questions, particularly for those with showing signs of a fever, will pertain
to areas of travel and if they display any symptoms of the virus, especially
fever.
In most instances you will be asked:
1. Do you have fever?
2. Are you a resident of – or have you traveled within the last 21 days to
a country where an EBOLA outbreak is occurring?
3. Have you been exposed to someone who is suspected or known to
have EBOLA?
Even though some may be skeptical on this disease spreading, we want
to take precautions for both our citizens and our emergency responders.
Please use the health precautions that have been set forth by the
http://www.cdc.gov/vhf/ebola/outbreaks/2014-west-africa/qa.html
---
WEEKLY UPDATE FROM US NWS LAKE CHARLES 10/23/14:

The National Weather Service in Lake Charles is expecting seasonable and
dry conditions through the weekend, with small rain chances in the Tuesday
to Thursday time frame next week. Temperatures will be near normal.

In the tropics, no tropical cyclone development is expected over the
next week.

Roger

--
Roger Erickson
Warning Coordination Meteorologist
National Weather Service
Lake Charles, LA



---
UPDATE FROM NOAA NWS NATIONAL HURRICANE CENTER 10/24/14:


Over the Atlantic basin on this Friday morning, there's an area of cloudiness
and thunderstorms centered over southeastern Yucatan, Belize, and the
adjacent northwestern Caribbean Sea.

It's associated with with the remnants of Tropical Depression Nine. Surface
pressures are rising in the area, and redevelopment is unlikely while the
system drifts eastward.

Get the latest on the tropics anytime by visiting the
NHC website at www.hurricanes.gov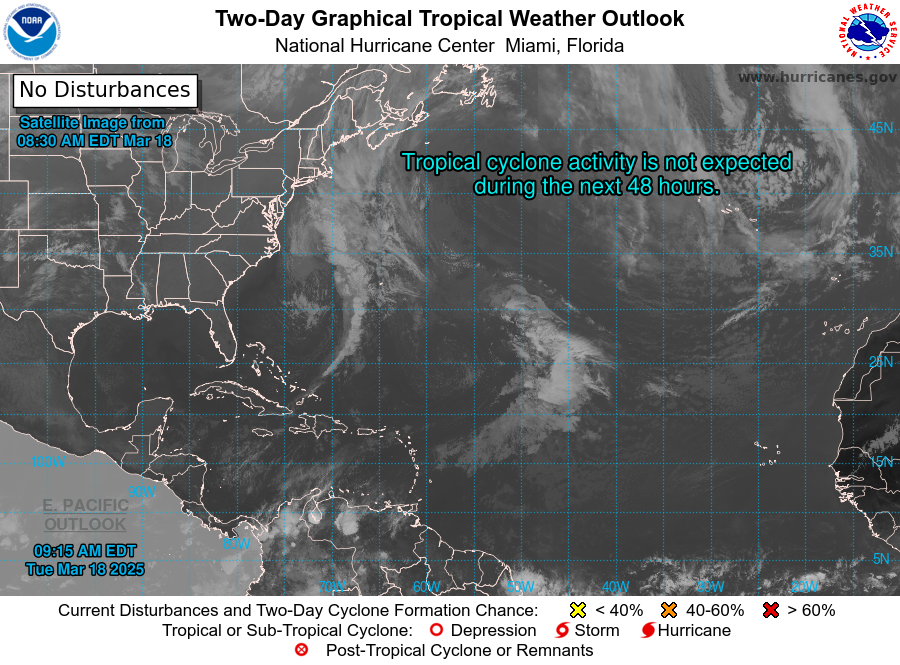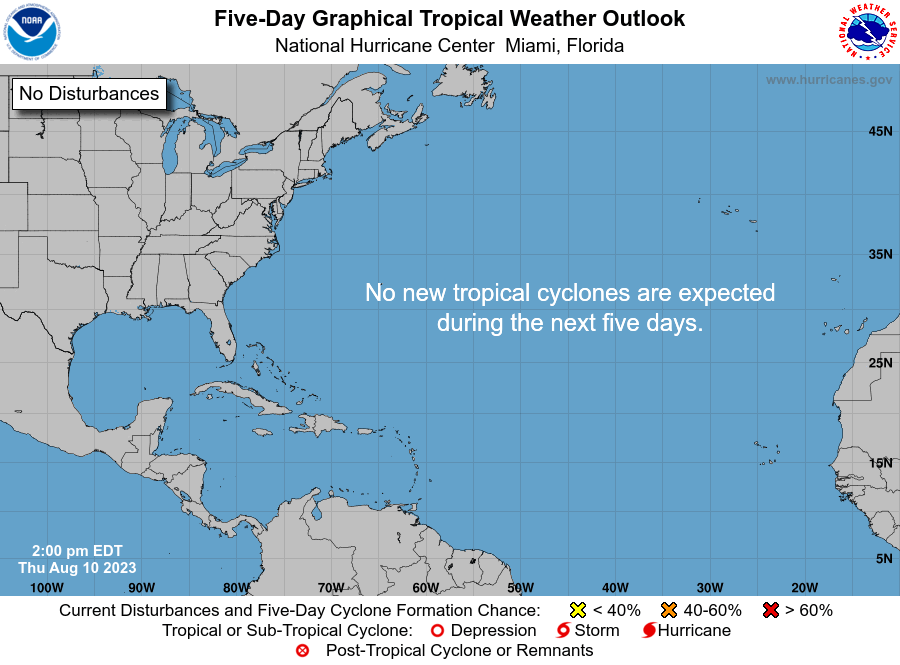 ---
---


FOR ROAD CLOSURES PLEASE GOTO THE LINK BELOW:

http://lb.511la.org/lalb/


---


CURRENT RADAR FROM THE US NATIONAL WEATHER SERVICE LAKE CHARLES

---
On October 10, 2013: Flood stages at four forecast points along the Atchafalaya River
will be changed to better reflect flood impacts along the reaches of the river served
by these forecast points.
The National Weather Service will change the river flood criteria at four locations along
the Atchafalaya River to better reflect the flood impacts at the following locations:
Butte La Rose, Melville, Krotz Springs, and Morgan City.
Morgan City
| | | |
| --- | --- | --- |
| | New Criteria | Current Criteria |
| Action Stage | 4 Feet | 4 Feet |
| Flood Stage | 6 Feet | 4 Feet |
Moderate
Flood
Stage



7 Feet





7 Feet




Major
Flood Stage



12 Feet





12 Feet




These changes in the flood criteria will allow emergency managers in Avoyelles, St. Mary,
St. Martin, St. Landry, and Iberia parishes to better serve the communities that would
be impacted by flooding. These flood criteria reflect input from the leaders of these parishes,
along with first responders, and citizens.
Important: These changes will not affect flood insurance maps or flood insurance rates
for these locations. This will only affect the watch and warning criteria at this locations.
---
Have you developed your disaster plan? Start today. You never know when the
unexpected will happen. Be prepared; develop your emergency kit!
Ready.gov FEMA Federal Emergency Management Agency
Louisiana Governor's Office of Homeland Security and Emergency Preparedness
---
goto this link for St Mary Parish School updates:
http://www.stmary.k12.la.us/
---
The ALERT FM app is now available for iPhone and Android devices.
Below are the links that go directly to the ALERT FM app.

iOS:

http://imap.tv/2k


Android: goo.gl/qwQyU
---
Suspicious Activity Reports/Tips
Report Suspicious Activity

Prompt and thorough reporting of suspicious activities may prevent
a terrorist attack. When reporting suspicious activity, it is helpful to
give the most accurate description
possible of the situation, including:

Brief Description of the Activity
Date, Time and Location of the Activity
Physical Identifiers of the Person(s) Observed
Vehicle Descriptor Information
Where Any Suspicious Persons May Have Gone
Your Name and Contact Information (optional)

Tips for Reporting

Being aware of signs indicative of terrorist planning can
aid law enforcement in the discovery of possible terrorist activity.
If you believe you have information that would help authorities,
you are encouraged to do the following:

Call 911 for Life Threatening Emergencies
Homeland Defense Hotline- 1-800-434-8007 (24 HOUR ASSISTANCE)
LSP Website - WWW.LSP.ORG (Click on Suspicious Activity Online Report to report any of the above mentioned incidents)
LA-SAFE Email - This e-mail address is being protected from spambots. You need JavaScript enabled to view it

7 Signs of Terrorism

Certain activities, especially those at or near sensitive facilities,
including government, military or other high profile sites or places
where large numbers of people congregate, may indicate terrorist
planning phases. Suspicious activities of interest that should be reported
to law enforcement are commonly referred to as the 7 Signs of Terrorism.

Surveillance: Recording or monitoring activities. May include drawing diagrams,
note taking, use of cameras, binoculars or other vision-enhancing devices or
possessing floor plans or blueprints of key facilities.

Elicitation: Attempts to obtain operation, security and personnel-related
information regarding a key facility. May be made by mail, fax, e-mail,
telephone or in person.

Tests of Security: Attempts to measure reaction times to security breaches
or to penetrate physical security barriers or procedures in order to assess
strengths and weaknesses.

Acquiring Supplies: Attempts to improperly acquire items that could be used in
a terrorist act. May include the acquisition of explosives, weapons, harmful chemicals,
flight manuals, law enforcement or military equipment, uniforms, identification badges
or the equipment to manufacture false identification.

Suspicious Persons: Someone who does not appear to belong in a workplace,
neighborhood or business establishment due to their behavior, including
unusual questions or statements they make.

Dry Runs/Trial Runs: Behavior that appears to be preparation for a terrorist
act without actually committing the act. Activity could include mapping out routes
and determining the timing of traffic lights and flow.

Deploying Assets: Placing people, equipment and supplies into position to
commit the act. This is the last opportunity to alert authorities before the terrorist
act occurs.
---

Get Tech Ready
According to The American Red Cross, the internet - including online news sites and social media platforms - is the third most popular way for Americans to gather emergency information and let their loved ones know they are safe.
Through the use of everyday technology, individuals, families, responders and organizations can successfully prepare for, adapt to and recover from disruptions brought on by emergencies and/or disasters. With effective planning, it is possible to take advantage of technology before, during and after a crisis to communicate with loved ones and manage your financial affairs.
FEMA Text Messages
Use your cell phone's text messaging capability to receive text message updates from FEMA (standard message and data rates apply).
Here are basic commands to get started:
To signup to receive monthly preparedness tips: text PREPARE to 43362 (4FEMA)
To unsubscribe (at any time): text STOP to 43362 (4FEMA)

---
PLEASE CLICK ON
St . Mary Parish's
Emergency Notification
System
(link in upper right column)
Link to register your cell phones and email ONLY!!


PLEASE NOTE:

HOME AND OFFICE LANDLINE PHONES ARE ALREADY REGISTERED FOR FIRST CALL ALERT SYSTEM!!!


---
River Stages
National Weather Service